Although I am supporting the current union effort for PAT staff at UNH, I continue to listen to all points of view, often agreeing with anti-union folks on various aspects. There is a lot of grey area here.
The problem with binary, political stuff, though, is that sides must be chosen, conclusions must be reached…
A conclusion is simply the place where someone got tired of thinking.

-Arthur Block
Even more troubling than having to conclude things out of pure fatigue? Having to remember where and when free speech is *actually* allowed here in the USA. All these rules surrounding union 'solicitation' (see? Use a word like 'solicitation' instead of 'speech'… voila!) are distinctly un-American, to trot out a chestnut usually roasted by the Right. Limiting speech to control political outcomes? Transparently fascist, people.
They say 'America First', but they mean 'America Next'.

-Woody Guthrie
Do I need to say more?
Am I even allowed?
For the record, I have no rules surrounding when other people are allowed to speak to me about anything in particular, and I promise not to 'run to Daddy' if I don't like what you have to say.
I don't watch hockey, but I feel an obligation as a New Englander considering the Bruins haven't won it all since '72. That's three years before I was born. If I have my facts right, in both cases.
Kind of fun watching a new sport. Random thoughts include:
It was cool how the guy singing Oh, Canada! used a tuning fork out on the ice, right up to his ear so he could hear it above the crowd, just before beginning.
Hockey officials have to jump over the puck sometimes. That's pretty damn athletic itself. I'll bet hockey officials have to retire earlier than basketball officials. Looks a lot more strenuous.
When one of the Bruins starred the protective glass behind the goal with a slapshot, it ruled.
An announcer just commented that a shot 'ricocheted off some Unfortunate in front of the net' which made me laugh.
Wow, seriously, no score for 3 periods until the Bruins give one up with 18 seconds to go? Does this happen often in hockey? Very disappointing. Not sure I lucked out on my first hockey game. At least in basketball, even if your team loses, you get to see them score about 50 times. I still haven't had the joy of watching a Bruins goal! Hopefully next game.
I may add some bullets, if I keep on watching. Go Boston!
There is a lot of rhetoric around people needing to 'make sacrifices' in these hard financial times… you know, bear the burden of rising costs together, stop being selfish and all that. Presumably we are making sacrifices for the sake of this.
The whole system needs a push from below, that's why I'm for the unionization effort at UNH. Not because labor laws and legacy political constructs make perfect sense… but because it's the only civil method of applying that 'push'.
Or hell, let's just win!
I just returned from the opening night performance of the New Hampshire Theatre Project's Seascape, an Edward Albee play. Really an interesting and offbeat show. Without spoiling too much, the entrance of the second couple near the end of the first act is classic. Well worth your time to see it at the West End Studio Theatre in Portsmouth.
For full disclosure, I did contribute the sound design for the play, but don't worry. I wouldn't steer you wrong.
My good friend Kathi has made her wonderful mac 'n cheese for us a couple times, and has now generously shared the recipe. Yum!
Grate 1 stick of Cracker Barrel Vermont Sharp Cheddar.
Boil a little more than 1/2 box of elbow macaroni according to the directions
in another sauce pan, add olive oil (or butter if you prefer) and garlic (1/2 fresh garlic or a tablespoon of minced garlic) and brown on low heat
lower the heat to low and add 1 jar of Classico 4 cheese sauce or the one with garlic in it (alfredo sauce)
add the grated cheddar to the sauce and stir until creamy (be careful not to let it burn)
Add sauce to the drained pasta
pour into an baking pan and spread evenly
top with French's fried onion ring things
bake until bubbly
If you're stopping into our homepage at mindmined.com for the first time in awhile, you may notice things have changed a bit. Garden of Blog and CozmiKast are now part of the regular news stream.
We're still adding to the Mind Mined archive proper, but now the mother ship is current with the latest text and audio feeds from our Web 2.0 endeavours: your editor's personal blog, and the podcast we started back in October of 2005.
I hope you enjoy the new presentation of Mind Mined!
-Marcus
Some of you may know that I am a founding member of the seminal psychedelic band Cozmik Corkscrew. We rock.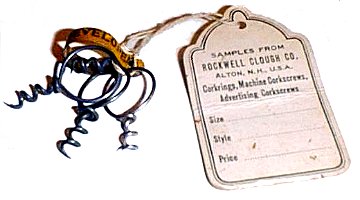 Well it turns out that moving to Alton, New Hampshire some years ago has brought me to one of the corkscrew's most historic places. William Rockwell Clough moved his corkscrew manufacturing to Factory Street (now Gilman Road) in 1903, and the company proceeded to crank out more than a billion corkscrews about 5 miles from where our home sits now.
In 1904, "Clough married his second wife Nellie Sophia Place, daughter of George Place, an Alton lumber dealer and businessman" according to chapter four of William Rockwell Clough, a book by Ron MacClean. This is all from that book, including the image of the corkscrews to the right. Look closely: yup, those miniature corkscrew samples are from Alton. There's a lot more Alton stuff at the end of chapter four (scroll down) in MacLean's book.
In other Alton/corkscrew synchronicity news, you may be familiar with Alton Towers, a huge amusement park in the U.K. In 1980 it added a rollercoaster called The Corkscrew which was the first coaster to invert in Britain.
Do skip on over to my lovely wife's newly redesigned blog known worldwide as The Zucchini Patch. Now we're both on WordPress and happier for it.
I just took the Perl Survey. You should, too, if you use Perl.
Next Page »